Writing Task 1 Process Chart
Introduction
The first paragraph simply paraphrases the question. This is done through using synonyms.
Overview
In the next paragraph, talk about the main stages of the process, such as the starting stage and the ending stage. Do not describe the whole process in this paragraph, and this is known as the overview. The salient features have to be outlined clearly.
OR
Overview
The Overview gives two Overall sentences. An overview gives the examiner an overall picture of what is happening. You will notice that I have mentioned:
How many stages there are;
How raw materials were used;
If it is linear or cyclical;
what happens in the beginning; and
what is the result?
Body Paragraph 1
The Body Paragraph 1 looks at cement production in much more detail than the overview. The examiner is looking for your ability to highlight the main features and sequence them effectively.
Body Paragraph 2
The Body Paragraph 2 details the process of concrete production. This is a much simpler process and does not require so much sequencing. There are some percentages so it does allow us to show the examiner that we can use the language of proportions instead of just repeating all of the numbers.
Question
The diagrams below show the stages and equipment used in the cement-making process, and how cement is used to produce concrete for building purposes.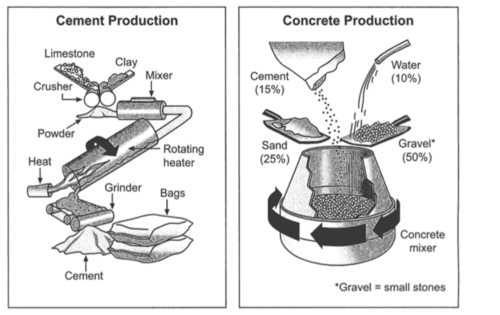 Sample Answer
The first diagram illustrates the process of cement manufacture, and the second diagram shows the materials that go into the production of concrete.
Overall, it is clear that there are five stages in the production of cement, beginning with the input of raw materials and ending with bags of the finished product. To produce concrete, four different materials are mixed together.
At the first stage in the production of cement, limestone and clay are crushed to form a powder. This powder is then mixed before it passes into a rotating heater. After heating, the resulting mixture is ground, and cement is produced. Finally, the cement is packaged in large bags.
Cement is one of the four raw materials that are used in the production of concrete, along with gravel, sand and water. To be exact, concrete consists of 50% gravel, 25% sand, 15% cement and 10% water. All four materials are blended together in a rotating machine called a concrete mixer.
(160 words, band 9)
If you enjoyed "Writing task 1 Process", please share this post and comment on it.
Regards
Er. Nachhattar Singh ( CEO, blogger, youtuber, Motivational speaker)